HOH Spa Services Provided by Lorrie
SPA SERVICES by CATEGORY
Massages 
Deep Tissue
If you've been dealing with long-standing muscle aches and pains deep tissue massage may be the answer to your prayers. Lorrie uses firm pressure to penetrate deeply into your muscle  tissue to facilitate the release of stagnant, relentless muscle tension. When the tension is released, blood circulation is restored and the result is increased flexibility and mobility.
Important: Deep tissue massage is not advisable nor recommended for persons with high blood pressure or for pregnant women.
Hot Stone
Ahhh, hot stone massage…my Mom's favorite of all the spa services we offer! Why? She loves the way the heat of the hot stones assists in releasing the knots she stores in her body, especially her shoulders. The smooth texture of the stones and their hard surface are an effective tool used to release energy blocks and pockets of tension stored within your muscle tissue. And, if you're someone who is often chilled to the bone, a hot stone massage wards-off the chill of winter weather.
Why not give a hot stone massage a try, they are highly recommended and Mom-Approved!
Prenatal & Postnatal Massage
Women who are pregnant and/or have just delivered their baby experience many rapid, amazing changes to their bodies throughout their entire prenatal and postpartum phases of pregnancy. These changes have an impact on her muscles & joints, the body's framework, they influence her circulatory system, disrupt restful sleep, trigger fatigue, mental stress and a variety of aches and pains. Women who experience regular massage sessions during their pregnancy (after the 1st trimester) and after delivery (once her OBGYN authorizes it) receive relief from their experienced discomforts and mental stressors.
Helpful Info:  Regular prenatal massage helps the mommy-to-be prepare for labor and delivery and postnatal massage assists the woman with regaining her "pre-pregnancy" body.
Swedish
Without question, Swedish Massage is:
1) the most well-known form of massage
2) offered in 99% of spas throughout the world and
3) the most often requested massage treatment
It's a multi-faceted form of massage, meaning that it incorporates a variety of massage techniques into your session that typically includes soft, long, kneading strokes and light pressure.
If you are seeking a relaxing massage experience, then Swedish massage is an excellent choice. In addition to relaxation, a Swedish massage also provides pain management, increases circulation, addresses muscle injuries, improves flexibility, fortifies your immune system and reduces stress. What's not to love about this?
If you're unsure about which form of massage is best for you, be sure to discuss your goals and preferences with your massage therapist. They will know what techniques to use to help you receive an appropriate massage to meet your needs.
Massage Pricing
30 min. $60
45 min. $75
60 min. $85
75 min. $100
90 min. $110
Wellness Massage ~
30 min.
$60

~ 60 min.

$85

~ 90 min.

$110

Hands On Healing's [HOH] Wellness Massage is a comprehensive massage/healing session that may include any combination of the following massage techniques and healing modalities within a single session:

Swedish, Deep Tissue, Hot Stone, Lymphatic, Myofascial Release, Trigger Point, Cupping,  & Energy work aka Reiki** (pronounced Ray-key) energy healing.  FYI: Lorrie is the only Reiki practitioner currently working at Hands On Healing in Stockton, Ca.

Lorrie will custom design your wellness massage based on your health requirements and personal preferences.

** Given the fact that Lorrie is a trained and certified Reiki practitioner, in addition to being a massage therapist, here is a fun fact you need to know:

During any massage you receive from Lorrie, you will also receive the healing benefits of Reiki, and… it's FREE!  That's because, as long as Lorrie is touching your body, the Reiki energy is flowing from her hands and is therefore being used by your body to facilitate your healing.

FYI: The value of a Reiki session is equal to the cost of your massage.  What a deal… Two Spa Services for the Price of One!

[Read more about Reiki, here]
Facials 
Featuring Image Skincare Products:
IMAGE O2 Lift Oxygen Facial® –

$95.
INDICATIONS: ALL SKIN TYPES
Treat yourself to an IMAGE O2 Lift Oxygen Facial by Lorrie J. Peterson… it's a luxurious skincare treatment every woman deserves. This oxygen peel skincare treatment will pamper, transform and rejuvenate your skin. When it comes to facials the O2 Lift Treatment is the crème de la crème of Lorrie's facial spa services!
You may be wondering… What Does Oxygen Have to do with Creating a Healthy-Looking, Radiant Complexion? Oxygen is known to:
• help revitalize the appearance of collagen-depleted skin,
• add brightness to an otherwise lackluster complexion,
• clean out clogged pores,
• clarify troubled skin,
• deliver a gorgeous glow and a fresh, uplifted look to your complexion!
Learn more about the benefits of an IMAGE O2 Lift Oxygen Facial in my video below: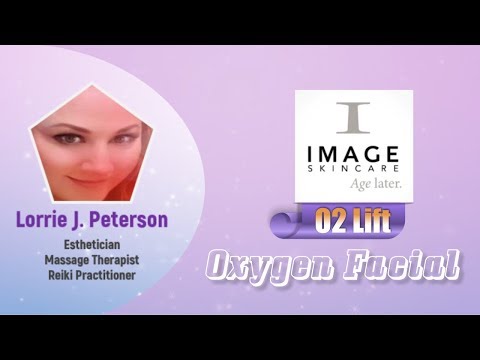 Image® Custom Facial ~
$85
Lorrie features IMAGE Skincare® Products in every facial she provides to her clients. Given that every person's skin type is unique to them, custom facials are designed to treat each person's skin type, current skin condition and issues, on an 'as needed' basis. Lorrie is a skilled esthetician trained in how to diagnose and offer professional treatments that will enhance and heal your skin.
Spa  Packages
NOTE: Packages are best booked by calling into the office. This helps us facilitate coordinating services between our practitioners.  Thanks.
Detox Wellness  ~ 120-Minutes –
$140.
Infrared Sauna Session
60 Min. Wellness Massage &
Ionic Detox Foot Bath
Renewal ~ 120-Minutes –
$230.
Full-Body Exfoliation
Infrared Sauna  &
Raindrop Therapy
Heavenly ~ 180 Minutes –
$205.
Infrared Sauna
90 Min. Wellness Massage &
Custom Facial
The Works ~ 180 Minutes –
$270

.

Full-Body Exfoliation,
Infrared Sauna Session
60 Min. Wellness Massage &
Custom Facial
Rejuvenate –

$125.
30 Min. Wellness Massage &
Infrared Sauna Session
Body Exfoliation + Massage ~ 60 Min.
$110

~ 90 Min.

$135
Massage and Facial Combo
$135
'Stand-Alone'  and/or  'Add-On' Spa Services
Back Facial ~ 30 Min. ~
$65
Body Exfoliation ~ 30 Min. ~
$100
Is your skin dry and flaky? You can rectify that with a body scrub (sometimes called a body polish) exfoliation treatment! The body scrub will be vigorously massaged over your skin to loosen and remove dead skin cells. After the scrub is removed, your skin will feel fresh, soft, smooth and moisturized.
Body Waxing
NOTE:  Waxing prices are determined by session time and amount of wax used.
Why waxing for hair removal?  Waxing is an effective way to remove large swaths of body hair at a time.  It's also long-lasting because it takes longer for your hair to grow back because the waxing process removes hair at the root, not the surface.  On average, regrowth is forestalled for two to eight weeks where shaving or depilatory creams cause regrowth to appear in a matter of days.
Lorrie provides the following waxing spa services: Underarm, Bikini and Brazilian ONLY.
Underarms  $15-$30
Bikini  $25-$45
Brazilian  $40-$85
If you desire another type of waxing procedure, please call the spa to book your waxing spa services with one of the other estheticians on staff.  Thanks.
Infrared Sauna ~
$30

~ Stand alone or when added to another spa service
Bring a Friend ~ $25 each

Do you want to maximize the benefits of your massage session? Or would you like to burn up to 600 calories in 30 minutes?  How about both those needs/desires, simultaneously?  Well, then you're going to want to take advantage of an Infrared Sauna!
This 'stand-alone' or 'add-on' spa treatment is known to:
• Relieve pain from arthritis, bursitis, rheumatism and over-worked muscles.
• Assist your body in the detoxification process by releasing toxins on a cellular level via your body's ability to perspire.
• Facilitate relaxation.
• Relieve stress and tension and,
• Prepares your body for your massage!
 Ionic Detox Foot Bath ~
$40
Do you know that toxins can build-up and become stored within your body, causing a variety of health-related issues?  An Ionic Detox Foot Bath is an effective and gentle spa treatment that will detoxify your body in a mire 30-minute session.  This treatment will release impurities locked-in your body via your feet.  You simply sit back and relax while balance to your body is restored and harmful toxins are released.
Self-Tanning Treatment* – 60 Minutes –
$130.00
*includes your product to take home
Looking for a Sunless Tanning Solution that actually works?
Lorrie's got the perfect… No Orange | No Streaks | No Odor spa treatment you've been dreaming about!
TAN PHYSICS True Color Sunless Tanner® will:
• Provide a gorgeous and stunning tan,
• Nourish your skin,
• Replenish and hydrate your skin with its natural ingredients and
• Its scent blocking technology diminishes the common unpleasant odor associated with self-tanning products.
Call Lorrie at
209-463-7706

when you're ready to book your preferred

spa services

!